Student Creative Activity & Research Forum (SCARF) is a Showcase for Students Receiving the
Outstanding Achievement in Creative Activity & Research Award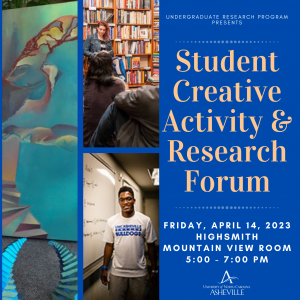 This special event was held on Friday, April 14th, 2023, from 5:00 pm – 7:00 pm in the Mountain Suites at Highsmith Student Union. Attendees experienced a wide variety of creative activity and research projects. Creative projects ranging from "Masala Shakespeare" to discovering iconographic links in 18th century portraits to hearing newly composed music from a 14-student musical ensemble. Research projects spanning a breadth of interesting subjects including the effects of cell phones on working memory to  examining music and its perceived effects on individuals with Autism Spectrum Disorder to partisan cheerleading and misinformation.
More than 70% of UNC Asheville Students participate in Creative Activity and Research sometime within their undergraduate studies. The outstanding examples of those students have been nominated by Departmental Chairs to be recognized for this special award. 
Invited to attend this event are Faculty, Donors, Students, Prospective Students, Family members and interested Members of the Community.  Hors d'oeuvres and light refreshments were served.
Spring 2023 Projects Included:
Art & Art History
Hannah Durham, How did the landscape of southern Appalachia govern life and the characteristics of traditional craft found within the region?

Bonnie Elander, Discovering Iconographic Links in a Perpetual Silver Covenant Chain: Eighteenth-Century Portraits of Hodinöhsö:ni׳ Diplomats from British North America
Biology
Jackson Coker, Gennie Bassett, Role of a dinucleotide signaling molecule in Staphylococcus aureus pathogenesis
Cassius Guthrie, Population Dynamics of the Lesser Chestnut Weevil in the Northeastern United States

Claudia Prieto Alcaide, Genetic Diversity Within, and Hybridization Between, Two Imperiled North American Pitcher Plants

Ari Puentes, Effects of Prescribed Fires on Mycorrhizal Fungal Communities in DuPont State Recreational Forest
Chemistry & Biochemistry
Vesper Fraunfelter, Heterologous expression of Pseudomonas aeruginosa ATP synthase in E. coli to facilitate antibiotic discovery
Casey Kellogg, Two-tiered approach to combating antibiotic resistance

Bryce Pugh, Development of cleavable antibiotic-adjuvant hybrid compounds for increased accumulation in gram-negative bacteria

Sam Shepard, Negative charge disrupts the chemical microenvironment of the H+ exit channel in Escherichia coli ATP synthase
Computer Science
Luke Foster, Caleb Styles, Cameron Martensen, Gilbert Matos, and Lake Smith, Fleet Management System

Matthew Kothe, uMaxEnt Deep Learning
Drama
MJ Gamelin, Theatre of Play: Exploring the Intersection Between Drama and Roleplay Gaming

Brónagh O'Shea, Elektra Properties Design
Maggie Schall, Theatrical Makeup Aging
Karoline Lotti, Claudia Sturgell, Abby Gray, Aidan Nigrelli, Scene from Elektra
Economics
Jacob Diehn, Differences in Category of Immigrant on Economic Assimilation Rates

Aubrey Emmett, The End(s) of Economics: Towards a Theological Economics of Eschatology
English
Riley Johnson, Love That Dismembers: Constructing A Subversive Monster Story In "Appetite"

Georgina Provencio Martinez, Masala Shakespeare

Shelby Sizemore, Hedda's Pistols and Jane's Wallpaper: Gender Role Rebellion in Nineteenth-Century Literature
Environmental Studies
Andrea Carver, Lights Out! Asheville

Joseph Walston, Evaluating Endangered Pitcher Plant (Sarracenia jonesii) Leaf Morphology and Flowering as They Relate to Soil Nutrient Status
Health & Wellness
Karlee Fish, The Impact of Income Inequality on Health
Mass Communication
Xander Lord, Dana Stewart, Sawyer Serdula, Walker Lezotte, Seth Maile, Luke Beijer, Jane Turlington, Betrayal (short film)
Master of Public Health
Irene Ulrich, Gender-Affirming Primary Care: Research and Materials
Mathematics & Statistics
Morgan Lancaster, DEI in the Mathematics Classroom

Spencer Guess, Wallis' Method and Wallis Curves
Music
C

layton Jordan, Composing Under the Influence: Incorporating the Techniques of my Favorite Musicians in Original Songs 
Political Science
Braden Ball, "Stop the Steal" and other Lies: Partisan Cheerleading and Misinformation
Psychology
Morgan Hopkins, Attitudes toward generic singular pronouns in text

Alexandria Lahm, A Reddit Post is Worth a Thousand Words: Conspiratorial and Magical Beliefs

Caroline Scholer, Examining Music and Its Perceived Effects on Individuals with Autism Spectrum Disorder
Laura Searles, The Effect of Smartphones on Working Memory
Sociology & Anthropology
Christian Donaldson, THE LANGUAGE OF GRIEF: Autoethnographic Reflections of Loss in American Culture